SPRING 2018
We are giddy with excitement as we call in the circle of courageous Mamas who will join us this year on our next Costa Rica Pura Vida Soul Journey.  Your experience begins with a magical week of surf and yoga adventures, inner exploration and deep restoration at the Bodhi Surf School nestled in beautiful Bahia Ballena.
This is your chance to truly get away from it all, slow down, reconnect with your natural joy and dance with the wise, wild woman that lives in all of us.
AND this is just the beginning!
Once you return home, your 3 month journey of mutual support and integration begins.  Together, as an activated mama tribe, we will breathe new energy into our everyday living.  We will support each other as we draw upon the gems of inspiration from our time together and infuse them into a home life that we love.  One that lovingly assists us in being the best version of ourselves, for us and for our children.
The Pura Vida Soul Journey will include: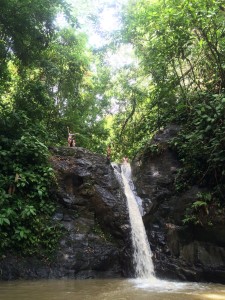 7 nights at the beautiful Bodhi Lodge (click here for photos and more information about their simple, earth-minded style)
3 love-infused, home made meals every day (20 total, with 2-3 offsite at local restaurants)
5 surf lessons with wise, soulful Bodhi Surf owner and Papa of 2, Travis
5 yoga classes with the amazing Bodhi Surf owner, master yogi and Mama of 2, Pilar (click here to see the gorgeous yoga platform and learn more about her philosophy and style.)
Daily workshops including Shakti dance, breath work and guided trio work to support the inner and outer expedition unfurling
1 hour long, outdoor massage
Art supplies, journal and plenty of space for creative expression and experimentation
Visit to a local waterfall
Fruit at each surf lesson and as many coconuts straight off the tree as you would like to enjoy!
Guided walking tour of Bahia Ballena with local naturalist
National Park entrance fees
Private round trip transportation (from airport in San Jose to Bodhi lodge in Uvita and back)
1 hour private coaching session with Jen while we're in Costa Rica, as well as 3 additional 1 hour coaching calls and ongoing email support during our 3 month journey.
3 in person gatherings in San Diego (early June, July and August). These afternoon/evening events will be mini-retreat style gatherings that include outdoor playtime, a nourishing meal and an opportunity for trio work and ongoing mama tribe support as we continue integrating these experiences into our daily lives.
A few important Logistics: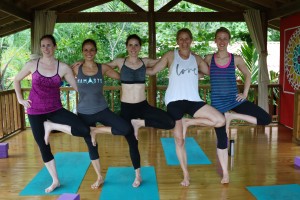 YOU MUST HAVE A VALID PASSPORT TO TRAVEL TO COSTA RICA. If it's not current you still have plenty of time to get this organized before May, but please don't delay on this non-negotiable part of our journey.
Participants will be required to book their own airfare to/from San Jose, Costa Rica.There will likely be a great deal on an Alaska Airlines flight from LAX to SJO.  This year they are $400 or about 30k miles and can be done as a companion pass too if you'd like to partner up with a friend and make it an even better deal!
It is approximately a 3 hour drive to the Bodhi Lodge from San Jose, so it would be ideal if we could all make this journey out to the coast together Saturday afternoon.  Many of us will be traveling from San Diego, so we can organize a carpool to LAX early Saturday morning as well.  If you're planning to arrive on another airline or time, that is no problem.  Just plan to coordinate your arrival/departures around a 4pm pick up on Day 1 at the airport in San Jose and approximately a noon drop off on the following Saturday.
The Pura Vida Soul Journey is $3000 per person and must be paid in full 60 days before our trip.  This journey will be full of life changing experiences and I can't wait to see all the ripple effects it will create in our lives. It is a big investment of time, energy and money, but one that will undoubtedly create incredible value well beyond the monetary exchange. Payment plans are available and coaching people in creative resourcefulness is one of my favorite topics. Please feel free to set up a call with me to explore this in more detail.  It will be a gift to you regardless of whether you decide to join us in Costa Rica this time around.
Are you curious to learn more? Please email me at jen@seektruenorth.com to set up a call where we can get to know each other better and support you in getting crystal clear about whether this journey is an ideal fit for you.  And in the meantime, check out our story/video from our "Awake In the Wild" Costa Rica retreat last spring!